Dr. Claudia Chaloner
Physical Therapist
Claudia Chaloner, PT, DPT | 224-545-0638 | Chaloner.claudia@gmail.com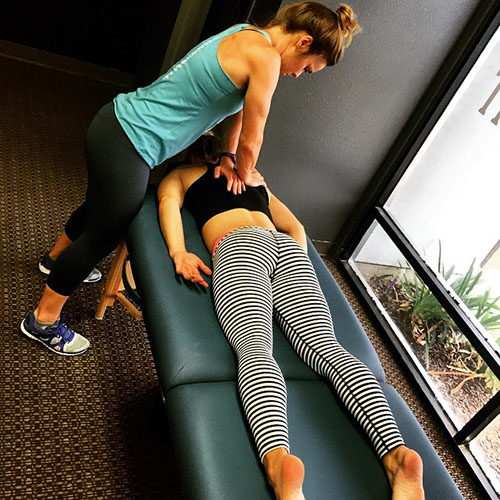 Dr. Claudia Chaloner received her Doctorate of Physical Therapy with high honors from the University of St. Augustine for Health Sciences in California and her Bachelor of Science degree in Health and Exercise Science from Furman University. While at Furman, Claudia was active on the Women's Rugby team and was selected to compete for the USA Women's Rugby U-23 South All-Star team. Prior to college in her home state of West Virginia, she competed as an amateur boxer for five years. She discovered Crossfit in 2007 and fell in love with the intensity of the sport and the camaraderie of the community. Now, Claudia competes in raw powerlifting placing 6th in the 63kg open class at USAPL Raw Nationals in 2016 and placing 3rd at the Arnold Sports Festival in 2017. Her top numbers in competition have been 158kg/347lb squat, 78kg/171lb bench, and 175kg/385lb deadlift at 132lbs bodyweight.
Claudia has spent over 10 years working in the fitness and wellness industry as a personal trainer, community wellness volunteer, and children's sports coach in the USA and in New Zealand. Outside treating, she enjoys traveling, painting, spending time with her husband and fur babies, and volunteering with a therapeutic horsemanship program for veterans. She also co-hosts the LionHeart Radio Podcast, promoting active lifestyle. Claudia holds her CF Mobility certification, CF level 1 trainer certificate, and has completed training in Postural Restoration Institute (PRI), Functional Movement Screen (FMS), and Selective Functional Movement Assessment (SFMA).
As a physical therapist, she is committed to improving not only the lives of her fellow athletes but any individual experiencing dysfunction. As an athlete and coach, Claudia understands the demands of high-intensity training and realizes the necessity of efficient movement patterns and education in order to achieve and maintain optimal performance. Due to personal injuries, she can relate to the frustrations of receiving therapy services provided by professionals who are not educated about correct movement patterns and high-intensity training. She hopes to bridge this gap by providing empathy, encouragement, and knowledge. Claudia is ready to equip fellow athletes with self-maintenance tools and train individuals to move for LIFE.