CrossFit ATR, CrossFit ATR North – CrossFit
Pertinent Information:
This week is "Pro-Wrestler Week" at ATR, to commemorate WWE's biggest event of the year, Wrestlemania. This is the 35th Wrestlemania in WWE history and takes place Sunday, April 7. The entire week we will have a wrestler-themed workout highlighting a hall of famer.
Warm-up
3 Rounds of:

5 Double Push-up Inchworms

0:30 Side Plank / side

50 ft. PVC Overhead Walking Lunge

10 GHD Hip Extensions

10 No-arm Straight-leg Sit-ups

THEN

1:00 Couch Stretch / side

1:00 Handstand Progressions

25 Banded Glute Bridges
Metcon
The Undertaker (AMRAP – Rounds and Reps)
21-minute AMRAP of:

20 Goblet-DB Lunges (60/40)

20 No-arm Straight-leg Sit-ups

20 Alternating DB Snatch (60/40)*

20 Calorie Assault Bike
*second arm is allowed to assist in the rep
21 minutes because of his 21 win streak at Wrestlemania. Goblet Lunges because he used to come out with a goblet and his pose in the ring was a lunge. Arms at your side for straight leg sit-ups because that's how he'd get up from the floor. DB Snatch for his signature choke slam. The bike to finish because for a time, he came out to the ring on a motorcycle.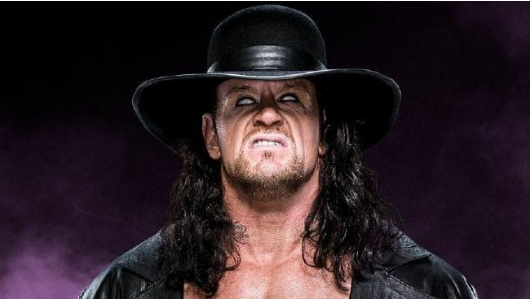 In addition to holding 17 different championship runs, the Undertaker is the second most prolific pay-per-view performer in WWE history, wrestling in over 170 matches.